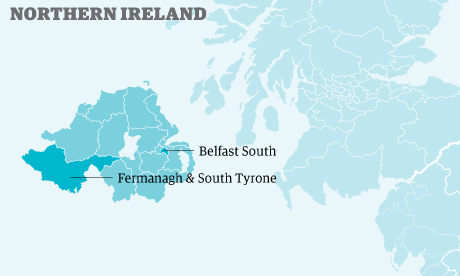 Northern Ireland does not have the standard range of safe seats and marginals, or swing from one party to another, common in other parts of the UK. Instead the political complexion of seats can be read off from the proportions of each of the communities living there. Westminster elections are quite often decided by whether the Unionist or Nationalist vote is more united, and this in turn depends on the relations between the parties on each side of the divide and which parties stand candidates. For all other elections, the proportional single transferable vote system is used because it allows more candidates to come forward and gives balanced representation.
Sometimes Westminster elections that are a yawn in Britain are quite exciting in Northern Ireland – in 2001 turnout rose and 7 out of 18 seats changed hands. In 2010 much is still unclear. The surge towards the Democratic Unionist Party (DUP) in recent elections may well have halted, now that the party leads the power-sharing executive, its older rival the Ulster Unionist Party (UUP) has renewed its historic ties with the Conservatives and the problematic private life of retiring MP Iris Robinson. It appears that the DUP and UUP, under Conservative auspices, have been discussing a Unionist electoral pact that would change the nature of the election. However, a DUP-UUP pact would still leave an anti-agreement Unionist force outside it, the Traditional Unionist Voice (TUV) party led by former DUP MEP Jim Allister. Allister himself will contest Antrim North against the DUP, where Ian Paisley Jnr, son of the firebrand former first minister, will stand.In recent years, there have been essentially nine seats that are contested between different sorts of Unionist which would be non-competitive under a pact. There are a further six which have clear Nationalist majorities, and in these Sinn Fein has advanced steadily against the SDLP. Even with only one candidate, the unionists could win in these only if the nationalist vote were to be evenly split (as it was in West Tyrone in 1997).
This leaves three constituencies where there is a contest between Unionist and Nationalist: Fermanagh and South Tyrone, Belfast North and Belfast South. If the Unionists unite and SDLP and Sinn Fein both put up candidates, the Unionists would defeat Sinn Fein in Fermanagh and hold Belfast North.
The Northern Ireland MPs become important to the governance of the UK if there is a close overall result. The Conservatives hope to maximise the number of their UUP allies returned, although they received a blow when their only MP Sylvia Hermon, not a Conservative supporter, has quit the party to stand as an independent). SDLP MPs are far more useful to Labour than other Northern Ireland MPs, because Sinn Fein do not take their seats and the SDLP's domestic agenda is similar to Labour's.
Key seat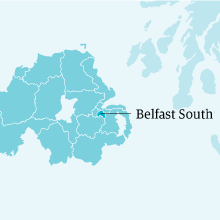 The most marginal seat in Northern Ireland is Belfast South. South is a mixed and mainly middle class area of Belfast including most of the city centre and the university (although it has enclaves of Loyalism in Sandy Row and Republicanism at Lower Ormeau Road). Traditionally Unionist, it was won by the SDLP's Alistair McDonnell in 2005 on a split vote. Against united Unionists, the SDLP would face a tough fight to retain it, and would need all the support they could muster from electors who would vote Alliance in Stormont contests, and liberal unionists.
One to watch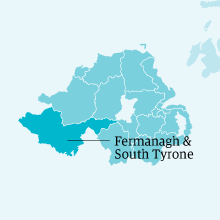 A long way from metropolitan South Belfast lie what Churchill once called "the dreary steeples" of Fermanagh and South Tyrone. The history of the seat is dramatic, with frequent alternation between Republican and Unionist candidates, high turnout and bitter campaigns – none more so than in 1981 when Bobby Sands was elected its MP in a byelection. Sinn Fein's Michelle Gildernew won the seat from the UUP in 2001, and it is one of the seats whose fate depends on whether there is a Unionist pact –although if the SDLP stood down too, it would be on a knife-edge – it was 52 per cent Nationalist and 48 per cent Unionist in 2005.
Star of the future
The complexities of Northern Ireland party alignments, and the possibility that the 2010 election will produce little change in the province, mean that it is hard to spot rising stars. One possibility is in North Antrim, where Ian Paisley first triumphed against the reformist UUP in 1970 and where his son and namesake will now stand for the DUP. With the possibility of both UUP and DUP being drawn into a Tory embrace, Allister would be the voice of hard-line Ulster Unionism in the Commons.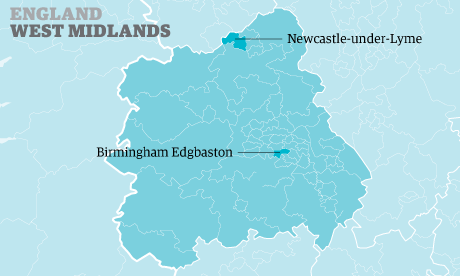 The West Midlands is one of the traditional swing regions of British general elections, with something of a tendency to produce high swings and go its own way. In 1970 and February 1974 it was arguably decisive in first installing and then removing the Conservatives from power. Enoch Powell's dramatic endorsement of Labour in 1974 probably made the difference between the Tories and Labour being the largest party in that year's hung parliament.
More recently, the West Midlands region has followed the trend a bit more closely, with Labour gaining several traditional marginals in 1992 (Birmingham Northfield for example) and then sweeping to victory in some of the suburbs and smaller urban areas in the region in 1997 – David Cameron was the first Conservative candidate to lose Stafford, for instance, since 1945. The Tories did not recover at all in 2001, but did regain a few seats they should never have lost in 2005.
The Tory targets in 2010 come in a couple of varieties. They will want to knock out some of Labour's cherished gains in 1997, and should manage this in Redditch (where Jacqui Smith did well to hang on in 2005), Staffordshire Moorlands (helped by boundary changes), Burton, Stafford and Worcester. If they fail in any of them it is bad news for the Conservatives. Buoyed by some good showings in local elections and the apparent strong Midlands trend to the right, the Tories will also target a cluster of seats in the "Black Country" post-industrial sprawl west of Birmingham – Stourbridge, Halesowen & Rowley Regis, Dudley North and South, Wolverhampton South West. If they are really sweeping to victory, seats like Nuneaton, Cannock and one of the Walsall divisions might fall.
The Lib Dem profile in the West Midlands has never been quite the same since Joseph Chamberlain left the party in 1886, and is even now oddly double-sided. They have an urban fiefdom in Birmingham Yardley, plus some more rural strength to the west of the region. Hereford is under serious threat from the Conservatives, although the Lib Dems must also hope that this is the year that elusive targets like Worcestershire West finally come through.
Key seat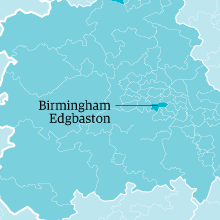 Birmingham Edgbaston became the best-known marginal in the region when Gisela Stuart recorded Labour's first televised gain of election night in 1997. She held on well in 2001 and 2005 despite bad local elections, in a seat where Labour had never won before. Edgbaston contains some of the prime residential areas of the city and the university, and stretches out to the volatile estates of Bartley Green. Edgbaston has been represented by women since 1953, a unique record of all-female representation (a long history of all-male representation is not such a rare phenomenon). If the Conservatives make their anticipated gain, this will continue, as Stuart's opponent is Deirdre Alden.
One to watch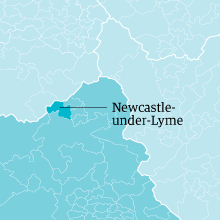 Newcastle-under-Lyme has one of the longest Labour histories of any constituency, going back at least to 1919 and arguably to 1906 when Josiah Wedgwood was first elected as a radical Liberal. Despite this century of Labour representation, it looks a bit shaky because of the apparent pro-Tory trend in the Midlands and some disastrous Labour local election results. The seat is one of Ukip strongest areas, with the party coming a narrow second to the Tories here in the 2009 local elections. A Labour loss would signify a historic low for the party.
Star of the future
Bromsgrove in Worcestershire will see political change brought about by the expenses crisis. Julie Kirkbride was a leading Conservative casualty and to considerable reluctance on the part of the MP and the association, she stands down. In this safe Conservative seat her successor will be ex-banker Sajid Javid, who is set to be the first ever Muslim Conservative MP and is highly regarded in his party.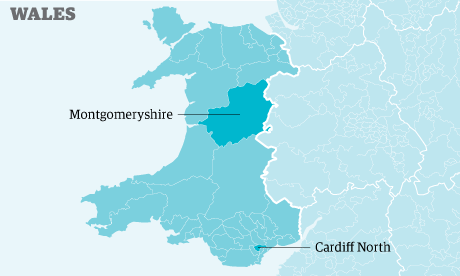 The Conservatives have high hopes in Wales. In the European elections in 2009 they came first in Wales, for the first time in a national election since the arrival of the mass franchise. This was more because of the collapse of Labour support than a rise in the Tories' own vote, but still stands as an indication of their ambitions. Some people even consider it possible they might win as many as 15 seats, and while they won five constituencies in the 2007 assembly election and one can identify 12 fairly readily, a few of these 15 possibles seem very difficult even if the tectonic plates are shifting in the Conservatives' favour.
There are several reasons for the buoyant Tory vote in Wales. One is that with Labour and Plaid Cymru governing together in Cardiff and the Lib Dems having struggled to make an impact, opposition votes are attracted to the Tories. Another is that since their initial grudging response to devolution, the party has adapted to the rapidly changing politics of Wales and presents a distinctive brand of Toryism that is generally to the left of Cameron and responsive to Welsh circumstances. The Conservatives can hope to claw back several marginal seats that have been theirs in the recent past (Cardiff North, Aberconwy, Vale of Clwyd, Vale of Glamorgan) and conceivably make an impact in some areas where they have not enjoyed previous success (such as Gower). When the Conservatives returned to government in 1979, they polled startling increases in their vote in several rural seats.
Wales would be particularly badly affected by the Conservative proposal to cut the number of constituencies, dropping back from 40 to 30 if this were implemented. It would be ironic if this cut short the careers of several newly elected Welsh Tories and set the party's prospects back to square one.
As well as the Labour-Conservative marginals, there are a number of other seats that are of interest. Although now firmly established in Dwyfor Meirionnydd and Carmarthen East & Dinefwr, Plaid Cymru success has been intermittent in other areas like Ceredigion and Ynys Mon, and the party's scope for success in Westminster elections (as distinct from Assembly elections) is limited. Labour hopes to regain the Blaenau Gwent seat from an Independent. The Lib Dems have a recently acquired stronghold in Cardiff Central, and have made some inroads in Newport and Swansea, but have a tough fight on their hands in the rural areas that have sustained the party in bad times as well as good.
Key seat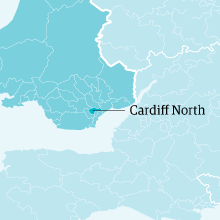 Cardiff North is a key marginal that the Conservatives are strongly expected to gain – if they fall short, it would be a disaster not only for David Cameron but for the long term Conservative project in Wales. The constituency consists of a band of middle class suburbs of the Welsh capital including Whitchurch and Lisvane. Labour MP Julie Morgan first made the seat marginal in 1992 and then gained it in 1997, but faces a stiff challenge in 2010.
One to watch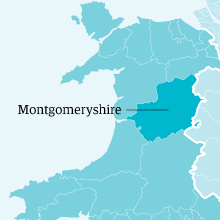 The rural constituency of Montgomeryshire is shaping up to be one of the classic contests of the 2010 election. It is a Liberal stronghold, having deserted the faith only once in the last century (1979), with an old-fashioned Liberal political base of small farmers and chapel-going Methodism rather than the new Lib Dem core constituency of academics and professionals. Lembit Öpik defends it for the Lib Dems, after a term full of personal publicity that will perhaps stretch the tolerance of Montgomeryshire. He also faces a strong Conservative opponent, former Assembly member, farmer and blogger Glyn Davies.
Star of the future
The Conservatives should overturn Labour's majority of less than 2,000 in Vale of Glamorgan fairly easily given that its incumbent is standing down and the Tories seem on course for a strong swing in Wales. Their candidate is Alun Cairns, who has sat in the assembly since 1999 (as a regional member for the scattered Conservatives of South Wales West) and is currently chief whip. He would be a logical choice for Welsh Secretary, to handle the liaison between a Tory Westminster and a Labour/Plaid government in Wales.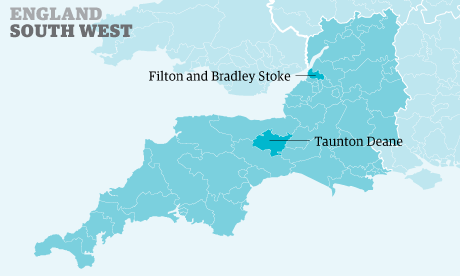 The south west is the one part of England that sees three-party competition on more or less equal terms, because of the strength of the Liberal Democrats across large parts of the region rather than, as elsewhere, in sporadic areas of activity. They currently monopolise representation in Cornwall and have a majority in Somerset – and every county in the region except Wiltshire has a Lib Dem MP. This is partly historical, in that the Liberals never really went away in Cornwall and rural Devon, and partly the influence of two party leaders from the region, Jeremy Thorpe (1967-76) and Paddy Ashdown (1988-99). Their 2005 campaign, in which they were positioned to the left of Labour, saw them knocked back a bit, and they need to defend a large number of their seats from Conservative attack this time. The election results from June 2009 were not encouraging for the Lib Dems. While they have often polled badly in Euro elections and gone on to win well in the general election, the Lib Dems lost Somerset and Devon county councils to the Conservatives and saw the Tories also become largest single party in the new Cornwall council.
The Lib Dems are also weakened, particularly in Cornwall, by retirements. Two seats with radical boundary changes in central Cornwall, Truro & Falmouth and St. Austell and Newquay, see the incumbency vote for long-time MP Matthew Taylor vanish, and Colin Breed also stands down in Cornwall South East. It is quite possible that a patch of blue will appear in Cornwall, although the bigger Tory ambitions of winning four or five out of six seats in the county will probably be disappointed. The Conservatives' open primary in their own vulnerable seat of Totnes has probably helped them fend off the Lib Dems.
Labour is on the back foot in the south west, defending some very marginal and difficult seats in Swindon, Stroud and Bristol North West– not to mention South Dorset, one of Labour's two gains in 2001 that Jim Knight held with an increased majority in 2005. In 1983 and 1987 Labour only had a single holding in the region (Bristol South) and while some other seats seem just as safe now (Plymouth Moor View, Bristol East) and there are marginals the party could hold while losing overall (Kingswood, perhaps Gloucester) it is still a region where Labour has trouble maintaining a foothold. Helpful boundary changes strengthen the position of Cabinet Minister Ben Bradshaw in Exeter, but he is still somewhat vulnerable.
A factor in the South West is that the region has several major boundary changes – Cornwall, Devon, Wiltshire and the Bristol area all acquire extra seats, with knock-on changes to existing seats. Some of the new seats are intriguing creations. Chippenham in Wiltshire nominally starts as a Lib Dem seat, but the Conservatives will fight hard and have selected black farmer Wilfred Emmanuel-Jones.
Key seat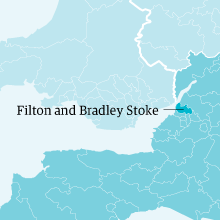 The new seat in the Bristol area is Filton and Bradley Stoke, created from parts of two Labour seats (Bristol North West and Kingswood) and one Lib Dem (Northavon). It consists mostly of recently-built owner-occupied sprawl (in the 1990s Bradley Stoke's negative equity problems caused it to be dubbed "Sadly Broke"). Demographically, it has a high concentration of the swing voters all the parties will target. All three parties have some concentrations of support and it would have been a three way marginal in 2005. If the Conservatives fail to win in 2010, they will be extremely disappointed.
One to watch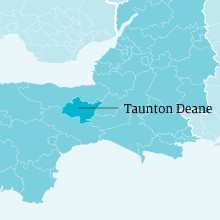 A test of the Liberal Democrats' resilience to a Conservative revival will be the result in Taunton Deane. Taunton has the unique record of having elected four different people as its MP in the last four parliaments (Conservatives David Nicholson in 1992 and Adrian Flook in 2001, and Lib Dems Jackie Ballard in 1997 and Jeremy Browne in 2005). The Lib Dem win in 2005 was very narrow, but their prospects in 2010 are improved by boundary changes that take out an area of West Somerset where the hunting interest is strong and the Tories pile on the votes.
Star of the future
The constituency of Tiverton and Honiton is one of the more loyal Conservative seats in the region (though it had a bit of a wobble in 1997). Former minister Angela Browning stands down and is replaced as Conservative candidate by Neil Parish, a former MEP with an interest in agriculture whom one can easily see as part of a Tory ministerial team at Defra.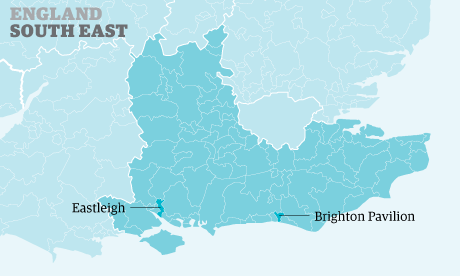 South east England is the heartland of the Conservative party. They have only lost their dominant position in one election (the Liberal landslide of 1906) and in every other election except 1997 and 2001 have won at least two thirds of the region's parliamentary seats. This long term ascendancy, combined with the steady population growth that awards the south east more seats every time the boundaries are changed, is a boon to the Conservative Party.
Not only are the Conservatives strong in the south east even in elections they are losing nationally, but the other parties' footholds are not very secure. Labour and Lib Dem seats are often marginal and at risk to any Conservative recovery, as in 1970 and 1979 when the other parties' representation was reduced to three MPs compared to, respectively, 60 and 68 Conservatives. A six-point swing to the Conservatives, as indicated in many national polls in January and February 2010, would leave 5 Labour and 4 Lib Dem MPs facing 75 Tories.
Labour are particularly vulnerable in Kent, where small boundary changes have already nominally changed the result in several marginals (Thanet South, Rochester and Strood, Sittingbourne and Sheppey). Other marginals in Sussex, Portsmouth and Milton Keynes are vulnerable. A really bad election for Labour would probably see only Slough survive as a red outpost in the region; the two Southampton seats, including John Denham's Itchen constituency, would be at risk judging by recent council election results. The threat from the Lib Dems is not that great, except in Oxford East.
The Liberal Democrats have made inroads into areas that were previously Conservative strongholds, particularly in Hampshire, but must play defence in several very marginal seats in 2010. Romsey & Southampton North looks very tenuous, and Winchester (where Mark Oaten stands down) is under threat. Other seats at Lewes and Portsmouth South look rather more secure, and there is an interesting contest at Oxford West and Abingdon where Evan Harris needs to mobilise Oxford collegiate liberalism while holding on to votes in suburban Abingdon. The party is targeting Eastbourne and Guildford from the Conservatives.
Key seat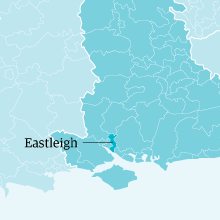 Eastleigh is a suburban seat based around a former railway town just north of Southampton. It first went Lib Dem in a by-election in 1994 and has been represented by Chris Huhne since the last election. Huhne nearly won the party leadership in 2007 and is an experienced key figure the party could ill afford to lose in the next parliament. He won in 2005 with a narrow majority over the Conservatives, but has some resources to call upon in the form of a strong local Lib Dem machine that has continued winning council election landslides, and a residual Labour vote that could be persuaded to make a tactical switch.
One to watch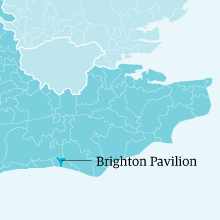 The most intriguing seat in the region is probably Brighton Pavilion. This central and north Brighton seat was once a Conservative stronghold, but saw its Tory MP go down to a 2-1 defeat at the hands of Labour's David Lepper in 1997, aided by the national swing and the local demographic trends towards an academic, young, gay, radical-minded population. These social changes, however, produced disillusion with New Labour and the growth of the Green party. It is a serious prospect for a Green gain and the election of Caroline Lucas to the Commons, although neither the new Labour candidate Nancy Platts nor the Conservatives can be ruled out.
Star of the future
There are a number of changes of candidate in safe Conservative seats in the South East as established MPs stand down. One such change takes place in Esher and Walton, where Dominic Raab takes over from Ian Taylor who has represented the seat since 1987. Raab is a Tory high-flier who has worked as chief of staff to David Davis and Dominic Grieve since 2005, and written a book about civil liberties. He previously served as a diplomat specialising in areas such as war crimes trials and the Middle East. He would surely be at least a minister of state by the end of a Cameron first term.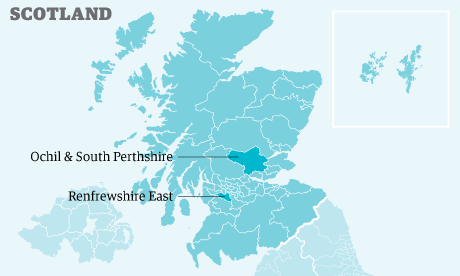 Scotland has produced some shocks for Labour during the 2005 parliament, with the SNP coming first in the elections for the Scottish Parliament in 2007 and the European Parliament in 2009, and the loss of Glasgow East in a 2008 by-election. However, it has also had some good news for Gordon Brown with two strong Labour showings in by-elections in Glenrothes and Glasgow North East. The signs are that Scotland will be one of Labour's better areas in 2010. The SNP government remains broadly popular but voters regard Holyrood and Westminster elections as being different, and when they see the choice as Labour or Conservative government most Scots favour Labour. The Conservatives still seem a weakened force, particularly in elections which are not proportional. While they should do better than their existing holding of one Westminster seat, their Commons delegation could well still fit into a taxi even if the party wins the UK election. Marginal Dumfries and Galloway is their top target from Labour, but beyond that they have shadowy hopes for Stirling and Edinburgh South, and one or two more including David Steel's old Borders seat of Berwickshire, Roxburgh and Selkirk from the Lib Dems.
While the SNP won a haul of constituency seats from Labour in 2007, the different political context and different boundaries make it much harder for them to gain much in 2010 and Labour should only suffer a couple of losses from this direction – Ochil, Dundee West and Kilmarnock & Loudoun being most plausible. Labour will be bidding to recover Glasgow East from the Nationalists.
After a strong showing in 2005, the Scottish Lib Dems will probably see a general fall in their vote, with seats vulnerable to the Conservatives and the SNP (Argyll & Bute). However, local strength makes them challengers to Labour in some middle class urban seats like Edinburgh South and Aberdeen South.
Key seat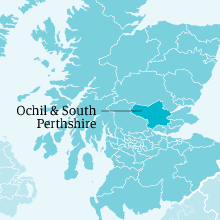 Ochil & South Perthshire has the distinction of sending its MP to Westminster with the lowest share of any MP in 2005 – 31.4 per cent of the vote. Labour's Gordon Banks won the seat with a narrow majority over the SNP, with the Conservatives not completely out of contention either. It is a mixture of the small towns of Clackmannanshire with some Perthshire countryside. It is quite possible that it will be won with less than a third of the vote again in 2010.
One to watch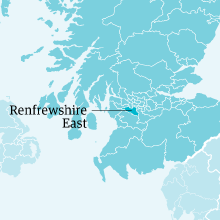 Renfrewshire East was won on a huge swing in 1997 by the young Labour candidate Jim Murphy. Now secretary of state for Scotland, Murphy faces his most serious electoral test in this suburban seat just south of Glasgow as the Conservatives try to regain what was formerly their safest seat in Scotland and unseat one of Labour's Scottish leaders.
Star of the future
Alex Salmond steps down from his Westminster seat at Banff & Buchan to concentrate on his job as First Minister of Scotland. His successor in this safe SNP seat will be Eilidh Whiteford. Whiteford is an academic expert on Scottish literature and a voluntary sector campaigner on poverty and carers. As a good Nationalist she hopes for a short stay in Westminster ending with independence rather than losing the seat, but will no doubt make an impact in the meantime.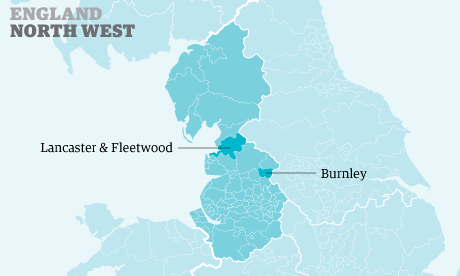 North West England – Lancashire, Cumbria, Cheshire and the great metropolitan areas of Manchester and Liverpool – has been a very weak area for the Conservatives in recent elections, as Labour has dominated the politics of the region and the Lib Dems have nibbled away at some of the remaining Tory strongholds such as Cheadle (gained in 2001) and the Lakeland seat of Westmorland and Lonsdale (gained in 2005). The Conservatives will enter the 2010 election hoping to re-establish the respectable level of representation they have enjoyed in their better past years such as 1992 or 1979.
Conservative hopes are focused on some seats they traditionally held before 1997, including suburban areas like Wirral South and Wirral West, near Liverpool, and central Cheshire where they can hope to add Chester City, Weaver Vale and Warrington South to their by-election gain in Crewe and Nantwich in 2008. They will also be focusing on some traditionally hard-fought marginal seats in Lancashire and northern Greater Manchester, such as Bury North, where previously well-regarded Labour MP David Chaytor was one of three MPs charged over their expenses, Chorley, Rossendale and Darwen, Pendle and Hyndburn. While these seats all returned Tory MPs in elections such as 1987, some of them (particularly Hyndburn) are tough nuts to crack, with sizeable blocs of Labour and Conservative supporters and rather low swings.
The big cities of the North West are still largely no-go areas for the Conservatives, and even a Cameron government with a majority would have fewer urban MPs from these areas than any previous Tory government. They stand no chance anywhere in Liverpool or Manchester proper, and are a long way from winning any of the inner urban seats in the boroughs around them. They have some long-shot aspirations in areas like Sefton Central (their former stronghold of Crosby) and Worsley & Eccles South (a new seat containing some well-off Salford suburbs) where their results in local elections have been impressive.
The Liberal Democrats have advanced against Labour in the cities in local elections, with control over Liverpool city council since 1998 (although Labour hopes to end their rule in the May local elections) and a stunning Parliamentary election success in Manchester Withington in 2005. They will seek, probably again in vain, to convert council election votes into parliamentary wins in Liverpool.
Key seat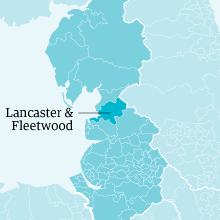 The constituency of Lancaster and Fleetwood is a new creation drawn by the Boundary Commission. It would have been Labour on the basis of the votes cast in 2005, because it combines some reasonably Labour areas of two previous marginal seats (Blackpool North & Fleetwood and Lancaster & Wyre) and is number 81 on the Tory target list (about what they need to be assured of forming a minority government). The Greens have a strong local vote in Lancaster. A Labour "hold" would be good news for the party.
One to watch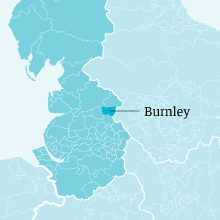 Burnley is one of the oddball constituencies of the North West. It was formerly a reliable Labour constituency, and Labour has won every parliamentary election here since 1918 with the sole exception of 1931. It has become politically unstable in recent years, with the rise and fall of the BNP on the local council and now a strong Liberal Democrat local vote. Its MP Kitty Ussher was tipped for a stellar career when first elected in 2005. She resigned as a Treasury minister after denying expenses allegations and is standing down because she says the working hours of parliament are not "family friendly". Her successor faces a tough fight to hold on.
Star of the future
The city of Liverpool changes at least two of its five MPs at the election. Stephen Twigg, vanquisher of Portillo in Enfield Southgate in 1997, returns as MP for the rather safer West Derby seat. His Labour colleague Luciana Berger faces a stiffer election challenge than Twigg from the Liberal Democrats in the Wavertree constituency, the nearest the city has to a marginal. Berger, a former student activist and director of Labour Friends of Israel, is likely to move quickly to the front bench if she holds Wavertree.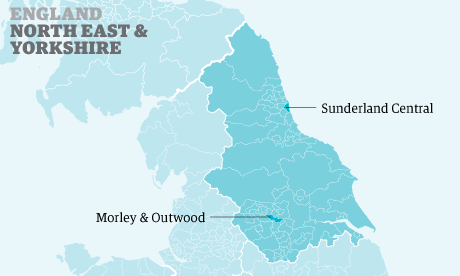 The north eastern quarter of England has long been one of Labour's stronger areas, based on support from working class electors in County Durham, the Yorkshire coalfield, Tyneside and the big cities of Leeds, Sheffield and Hull. However, it is not a uniform swathe of red on the map, even now – there are several very safe Conservative seats with huge acreages in North Yorkshire in particular. The region is not without a sprinkling of traditional marginal seats, particularly in West Yorkshire, and a few more unusual contests. Among the latter are several Lib Dem assaults on traditional Labour heartlands (for example Newcastle Central, Sheffield Central, City of Durham) and a strange new three-way marginal in York Outer, which surrounds the city like a ring doughnut. At present, despite the party leader Nick Clegg representing a seat in the region (Sheffield Hallam) it is one of the weaker parts of the country for the Lib Dems.
West Yorkshire is one of the key battleground regions in the election, with a rich concentration of marginal seats. Labour has dominated in the last three elections, winning every seat in the county in 1997 and 2001 but losing two in 2005, but in a closely contested election a lot of seats are up for grabs. Labour incumbents are standing down in several seats on the edge of the metropolitan area (Colne Valley, Calder Valley, Keighley) making the party's task harder. The Conservatives' real challenge is in a number of seats the party won in the 1980s – Dewsbury, Halifax, Elmet, Batley aand Spen). In recent years Yorkshire has become one of the stronger areas for the BNP, who gained a seat in the European Parliament and are particularly strong in the belt of towns – some marginal, some safe Labour – between Huddersfield and Doncaster. There is a more integrated side to politics in Yorkshire as well – the Conservatives in Bradford, since at least the days of Eric Pickles as local leader, have had significant Muslim support and two of their three candidates in the core city seats are Muslim.
The Yorkshire region has tended to produce low swings in past elections, and a loyalty to incumbents that saw some surprising Labour holds in 1979 (such as Keighley) and Conservative holds in 1992 (such as Batley and Spen). In 2001 William Hague, a Yorkshireman, seemed to go down better in his home region than the rest of the country, and the Conservatives made few further advances in 2005.
Key seat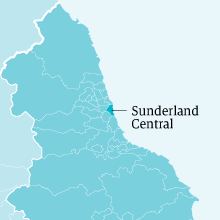 Sunderland Central should declare early (Sunderland council prides itself on counting elections quickly). The name of this new seat created by boundary changes makes it sound a most unpromising seat from the Conservative point of view. However, it is a long shot for a Tory win, as the party has polled the most votes in the area in three sets of local elections and both Labour incumbents in Sunderland seats are standing down. If the Conservatives win Sunderland Central, or even if there is a recount, it is a sign that David Cameron is on course for a comfortable overall majority.
One to watch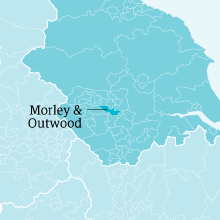 Morley and Outwood isa new seat lying between Leeds and Wakefield. The Labour candidate will be the schools secretary Ed Balls, whose Normanton seat disappears in the boundary changes. Morley and Outwood should be a safe enough seat for Labour, but there is enough doubt that it is worth watching. There is a Conservative vote there, and the seat is vulnerable with a high swing; it is also one of the seats where the BNP seems to have amassed substantial support.
Star of the future
The city of Leeds already sends one Cabinet Minister to Westminster in Hilary Benn, but it may well have another in future in Rachel Reeves, who is standing for Labour in Leeds West. The constituency is safe for Labour, whose MP John Battle stands down after representing it since he defeated one-term Liberal MP Michael Meadowcroft in 1987. Reeves is a professional economist who would be a natural pick for a Treasury job in any future Labour government.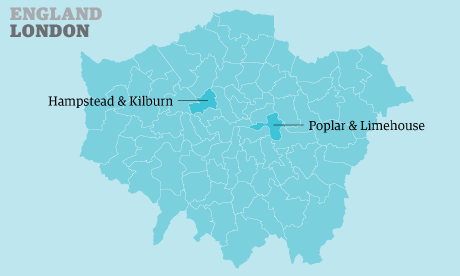 Greater London will have 73 seats in the new House of Commons, making this city-state an important influence on the overall result. The politics of London has become increasingly distinct from the rest of England. It has its own form of devolved government in the mayor and assembly, and its social make-up is spectacularly diverse. Politically, London often seems to go with the national trend but exaggerate it. In 1987, at the height of the boom, it even swung slightly to the Conservatives and Labour lost three seats in the capital. In 1997 it went for New Labour with a vengeance, with swathes of Tory seats in the suburbs whose allegiance had not wavered since 1885 falling suddenly to Labour. The Conservatives recovered a bit in 2005 in the suburbs, and the Labour vote slumped in some of the more liberal inner city areas, making a number of seats highly marginal. Labour suffered the painful blow of losing the mayoralty in 2008, when Boris Johnson became the most powerful Conservative elected official in the country, and had already lost a number of boroughs the party had controlled for thirty years or more in 2006. Despite this, London may be one of the lower-swing regions in the 2010 election. The party's results were less disastrous than elsewhere in the Euro election in 2009, and even in 2008 it picked up a London assembly seat.
The main Labour/Conservative contests in London come in two groups. One is a group of outer London seats that went Labour in 1997 (Hendon, Finchley and Golders Green, Harrow East, Enfield North, Brentford and Isleworth, Eltham). The other is a clutch of upwardly-mobile areas closer in to the centre, such as tenuously marginal Battersea and Westminster North, and the rather better insulated Hammersmith, Tooting, and Ealing Central and Acton. However, London is anything but a straight two-party fight. The Liberal Democrats try to hold off the Conservatives in five southern suburban seats, and will target several Labour seats in the inner city such as Islington South and Finsbury and Holborn and St. Pancras. Boundary changes create a new Brent Central seat, one of only two places where two incumbents fight it out (Labour's Dawn Butler and Lib Dem Sarah Teather). Further east in Barking and Dagenham the BNP will be mounting a serious assault on the parliamentary seats and the borough council.
Key seat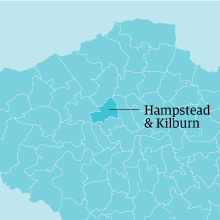 London constituencies will probably declare rather late, because of the need to separate out the ballot papers for the London borough elections on the same day and sometimes swap them across borough boundaries. A particularly intriguing seat is Hampstead and Kilburn. Glenda Jackson won the former Hampstead and Highgate seat for Labour in 1992, but suffered a severe drop in her vote in 2001 and 2005. On the new boundaries it looks like a tight three-way contest between Jackson and her opponents Ed Fordham (Lib Dem) and Chris Philp (Conservative), each of whom is well resourced and determined. It could be won with fewer than a third of the votes cast. A Labour hold would indicate that the parliamentary arithmetic could allow Labour to continue in power; a Conservative win would be a sign that they are on course to win a majority.
One to watch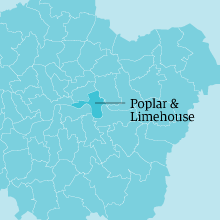 London has a number of oddball constituencies, but possibly none so peculiar as Poplar and Limehouse. This is basically the stretch of the north bank of the Thames that you see on the EastEnders credits, from the Tower of London to the Blackwall Tunnel via the Isle of Dogs. Even by London standards it is a mixture, with crumbling council estates and glittering riverside apartment blocks side by side. It has traditional Cockneys, wealthy bankers and a large Bangladeshi community. While it is a traditional Labour heartland (part named after George Lansbury) the Conservatives and Respect both made inroads in the 2006 elections. Labour MP Jim Fitzpatrick faces a threat from both parties, and is challenged by George Galloway who moves here from Bethnal Green & Bow.
Star of the future
Several London constituencies look likely to return MPs who will be names to note in the next Parliament and beyond. Keith Hill, who won Labour's first ever victory in Streatham in 1992 and has seen it become a fairly safe seat, hands over to Chuka Umunna. Umunna is a young locally born employment lawyer of mixed Irish, Nigerian and English heritage, and has the makings of a formidable politician; he has already been repeatedly compared to Barack Obama.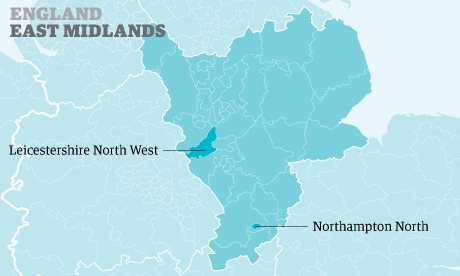 The East Midlands is a battleground between the Conservative heartland of south east England and the Labour cities of the north, and it is where elections are won and lost. There are large clusters of marginal seats in areas such as the suburbs surrounding Nottingham and Derby (Gedling, Broxtowe, Erewash and others) and ex-mining countryside between the main conurbations such as Derbyshire South and Sherwood. The Conservatives fared disastrously, except in the most rural areas of Lincolnshire, in 1997 but have recovered some ground since, with three gains in Northamptonshire in 2005 being one of their brighter spots of the election. In general, the East Midlands has probably been trending gently to the right for decades as the mining industry and agricultural labour have both declined – Bosworth, Belper (south Derbyshire) and Kettering were all safe-ish Labour seats even when the party lost the 1959 election.
The Conservatives are fortunate in that, as far as we can tell from local elections and detailed breakdowns of poll findings, the swing in their favour in the Midlands, particularly East Midlands, is particularly high. Results in the June 2009 local elections showed the Conservatives significantly ahead even in apparently safe Labour seats like Bassetlaw, and blowing more marginal Labour seats like Corby away by better than 20-point margins. If there is anything like this sort of swing in the general election, there would be some severe and unexpected casualties for Labour.
The picture is likely to be a bit different in the big cities, where Labour still seems strong – the party has polled consistently well in Leicester, for example. There seems to be some ethnic polarisation, with Labour holding up well in ethnically mixed areas but slumping disastrously in white areas with the Conservatives and BNP picking up support.
The East Midlands is a consistently weak region for the Lib Dems. They currently only represent Chesterfield, and while they won Leicester South in a by-election in 2004, it reverted to Labour in 2005. They have had some local election success in Bosworth, Derby and Oadby & Wigston in Leicestershire, but will struggle to translate these into parliamentary gains. One seat worth watching for a fourth-party challenge is Mansfield, where a local party was ahead in the 2009 local elections.
Key seat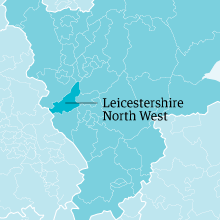 Leicestershire North West is currently a vacant seat, following the death of its Labour MP David Taylor. It is a stretch of ex-mining rural and small town territory around Coalville and Ashby de la Zouch, and since its creation in 1983 it has gone to the winning party nationally. It is nearly all-white and one of the BNP's strongest areas. With its marginal status, disastrous local election results for Labour, regional swing to the Tories, and the long term drift to the right in the ex-mining areas, it should be a gift this time for Tory candidate Andrew Bridgen. If it's even close, Cameron is falling short of an outright majority.
One to watch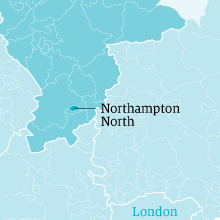 Northampton North is at first glance a typical piece of Middle England. It comprises modern housing built around this established county town turned 1960s New Town, with a few areas of old terraces and the desirable residential quarter of Abington. Since its creation in 1974 it has gone with the national trend, although its first two MPs were unusual (Labour's Maureen Colquhoun, the first "out" lesbian in parliament, and the very right wing Tory Tony Marlow). The more mainstream Sally Keeble faces the challenge not only of the Tories, but of the Lib Dems who won the most votes in the constituency in the 2007 and 2009 local elections.
Star of the future
Conservative candidate Louise Bagshawe is likely to gain marginal Corby in Northamptonshire (which combines the gritty town itself with some rolling, highly Conservative, acres) from Labour. Bagshawe has already had a successful career as a "chick-lit" author. While celebrities (Seb Coe, Glenda Jackson and Ken Livingstone, for instance) sometimes find it difficult to make an impact at Westminster once elected, Bagshawe stands as good a chance as any.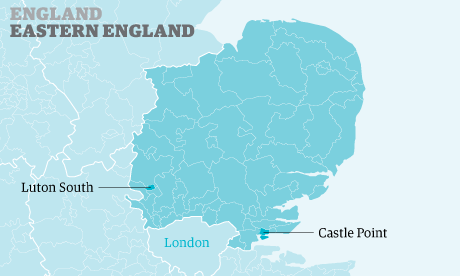 The counties north and east of London are these days for the most part a mixture of Conservative countryside and Labour towns, but this is only a comparatively recent development. In 1945 Labour swept all but one seat in rural Norfolk, and in 1966 urban Peterborough and Lowestoft stayed Tory while heavily rural Norfolk North was still Labour. In 1997 Labour's landslide reached further than ever in the towns, but in the country the tide was less strong and receded more rapidly in 2001. In 2005 the region was again one of Labour's worst, with the Conservatives gaining three seats in Hertfordshire, two in Essex and Labour losing both its holdings in Cambridgeshire (Cambridge city to the Lib Dems, Peterborough to the Conservatives).
Labour's eastern seats are very vulnerable in 2010. Harlow is on a knife-edge and the Conservatives have gained the council for the first time – it would be surprising if it and the clumsily named South Basildon and East Thurrock seat did not fall to the Tories. These are better bets for the Conservatives than some of their more traditional towns such as Great Yamouth and Waveney (Lowestoft) which as more self-contained towns may see national swings dampened by local Labour MPs. There are few truly safe Labour seats in the region – Ipswich, Thurrock and Luton North have hefty majorities but then so did Norwich North, lost in a disastrous 2009 by-election. It is not impossible to imagine the party completely wiped out, as it nearly was in 1983 and 1987.
The Liberal Democrats have made sporadic advances, and their three seats in the region look fairly safe – Norfolk North, Colchester and Cambridge, despite a change of candidate in Cambridge. While parliamentary representation is mostly two-party, there is significant support for the Greens and UKIP as well as the Lib Dems in eastern England. Ukip cannot really hope for a seat, but the Greens stand a chance in Norwich South, currently represented by Brown critic Charles Clarke.
Key seat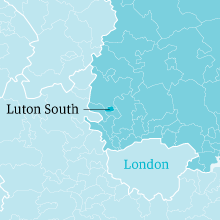 Luton South is a traditional bellwether marginal seat – Luton as one seat or two has voted for the winner in every election since 1931, with the exception of 1950. But it is of note not just because it is the sort of seat the Conservatives need for a majority, but also as a lingering reminder of the expenses crisis that laid Westminster low in 2009 and caused the retirement of Labour MP Margaret Moran. Her successor Gavin Shuker still faces an Independent challenge from Esther Rantzen as well as Conservative Nigel Huddleston.
One to watch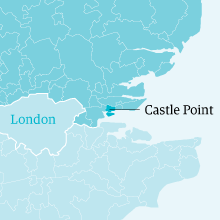 Castle Point (Canvey Island and some suburban areas west of Southend) is an oddball seat in several ways. It was a safe Tory seat for years before swinging violently to Labour in 1997, and then being a rare case of a Tory MP defeated in 1997 regaining the seat in 2001. However, that MP Bob Spink left the Conservative Party in 2008 and sits as an Independent. Spink intends to contest the seat again, and while Independents usually do not do well, it sets up an intriguing contest with Labour's Julian Ware-Lane and the likely winner, Rebecca Harris for the Conservatives.
Star of the future
Liz Truss is likely to will take over as Conservative MP for Norfolk South West, following on from Christopher Fraser who has an unenviable distinction of having represented two separate seats for a single term in each. Truss is well connected within the party and the Cameron leadership and was deputy director of right-of-centre think tank Reform, but better known for occasioning the revolt of the local Tory "Turnip Taliban". A job at the schools department beckons.
• This item was amended on 1 April 2010. The original indicated that Liz Truss is a current deputy director of Reform. This has been corrected.